Ask Dr. Streicher: March 2015
Mar 29th 2015

Posted by Dr. Christoph Streicher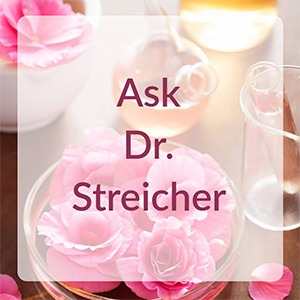 Jo H. Asks:
Is there an essential oil that will help tighten up loose skin? What to use for fatty liver and high cholesterol?
Thanks,
Jo H.
Dr. Streicher Answers:
Dear Jo,
You may try Carrot, Helichrysum, Geranium, Palmarosa. Carrier oils: Rosehip, Buriti.
For the liver, I recommend Rosemary Verbenone. For cholesterol you may try Cinnamon Bark. The spice may work better than the herb.
Kind Regards,
Christoph Streicher, Ph.D.
Disclaimer: The statements made in this blog have not been evaluated by the U.S. Food and Drug Administration (FDA). They are not intended to diagnose, cure or prevent any disease. If a condition persists, please contact your physician or healthcare provider. The information provided is not a substitute for a face-to-face consultation with a healthcare provider, and should not be construed as medical advice.
Original Published: 2015-03-29 / Last Modified: 2021-10-11