Treat Mom - We both know she deserves it!
Apr 24th 2023

Posted by Dr. Christoph Streicher and Linda J.
What can we do to thank our moms for all they've done for us? How can we acknowledge the essential nurturing that such a loving caretaker provides? Mothering qualities can be experienced in other relationships too: with a friend or relative, even with a neighbor or co-worker. Mother's Day is about Love as a verb: Love imbued with the vital work of actively caring for others, as well as accepting, understanding and just simply being there. Mothers of all kinds focus positively on their children, family, friends, communities, and even pets!

So often those who give to others don't give to themselves. Nurturers give a sense of ease and lightness as they help their loved ones to live their best lives. They often overlook their own needs, in order to put others' needs first. Mother's Day is a chance for you to even out the scales a bit. On this special day, give the gift of nurturing to Mom, and to all those in your life who love authentically, without conditions.
How did Mother's Day come to be?
This popular holiday grew out celebrations honoring the Greek mother goddesses Rhea and Cybele. It went on to become a European tradition of Christians returning to their "mother church" on the third Sunday during Lent. Then, across the Atlantic, it became a cause for American feminists in the early 20th century.
After the Civil War, pioneering feminist Ann Reeves Jarvis, gathered mothers on "Mother's Friendship Day" to help reconcile former Union and Confederate soldiers. Julia Ward Howe campaigned for Mother's Peace Day to be on a special Sunday in May. Loving care creates feelings of security and peace inside us all, so it follows that good mothers really do promote world peace! In 1914, Anna Jarvis (Ann's daughter) succeeded in having President Woodrow Wilson proclaim "Mother's Day" a national holiday in order to celebrate American mothers with all our love and reverence.
Did you know that more phone calls are on Mother's Day than on any other day of the year? Calling Mom on her day increases overall phone traffic by an average of 38%. That is the perfect reason to pamper her!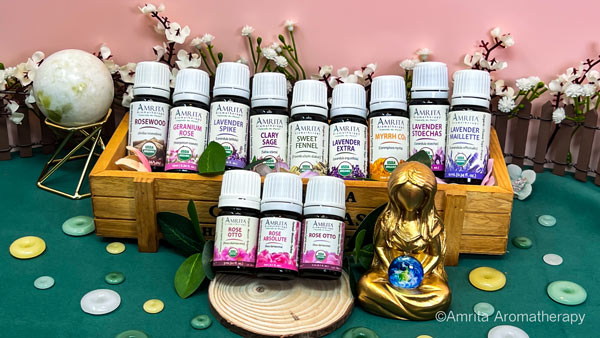 What would be the "perfect" gift for Dear Mom?
Amrita's pure, USDA organic essential oils, synergy blends, facial care products, and MORE offer the best of the best to those who have given us their all. Plant medicine is deep in the history of healers and wise-women throughout history and across the globe. When you embrace the healing energy of plants, you honor those who have practiced these arts for millennia.
The origins of essential oils, the awareness of the power of plants, came from human beings, often mothers, but always those who were driven to care for their loved ones with the best natural ingredients and in the best way possible. Now, you can benefit from this heritage and share these powerful gifts!
This Mother's Day, enjoy Amrita's pure Essential Oil Perfumes, or give them as gifts to the nurturing caretakers in your life. Crafted with Jojoba Oil and Non-GMO Vitamin E, these delicate scents heal the heart and inspire the spirit. They caress your endorphins with their lovely aromas. Amrita's natural perfumes will gently remind the wearer that they ARE loved! Below is more information on three of Amrita's favorite perfumes: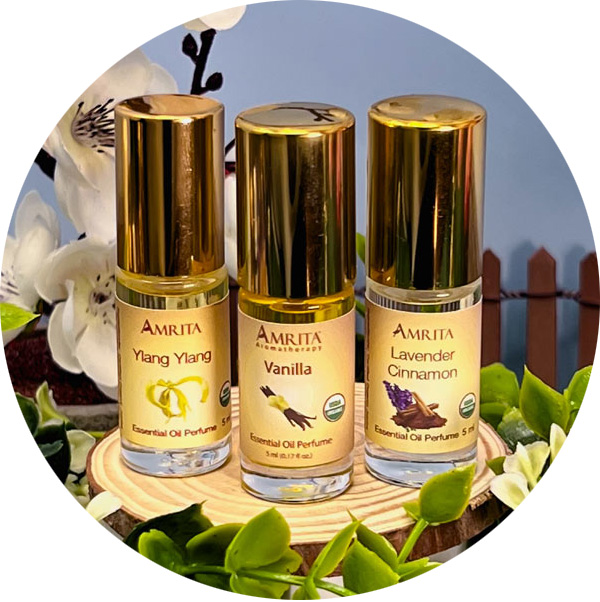 What other surprises do the Amrita Experts have for Mother's Day?
This Mother's Day, pamper yourself with the gift of aromatherapy! Whether you are looking to maintain your femininity, celebrate motherhood, or simply give yourself a little extra TLC, there is an essential oil blend for every woman. From calming Lavender to uplifting Sweet Orange and invigorating Rose Geranium, each bundle offers a unique collection of therapeutic oils that can help restore balance and enhance moods. Let the power of these botanical wonders lift your spirits this springtime holiday.