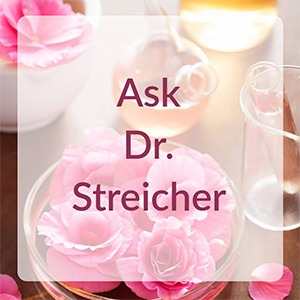 Susie asked via Ask Dr. Streicher:
I have a question regarding "USDA Certified Organic" Label you are showing on your site... What constitutes the labeling of USDA Certified Organic? I understand that the seeds/plants, etc., come from an organic environment free of pesticides, but what are the qualifications for the USDA to give approval, and what third party company have used…in other words...other companies list their oils as "certified organic" or "organic," so how does the USDA add extra value or credibility to the product?
Thanks, Susie
Dr Christoph Streicher answered this as follows:
This is a good and important question. For foods, it is illegal to use the term "organic" when no organic certification according to USDA standards is there. For the personal care industry, there is currently no regulation. Certification is voluntary. Therefore, there are many so-called "organic oils" on the market. The supplier trusts his supplier, who often is not even the producer, and he in turn "trusts" his supplier. All kinds of essential oils are called organic, though the production and distribution never would hold up USDA organic standards. I have even seen organic jasmine absolute, which never can be certified organic because of the nature of the extraction process.
The organic certification as laid out by the USDA allows for a complete product trail. Each batch can be traced back to the producer and to the field. Every company who ever handled the product must be certified. Amrita's organic certification includes an annual inspection, which checks for cleanliness of the whole operation, which cleaning materials are used, and how pests like mice are controlled without the use of toxic chemicals, etc.
Even wild-crafted crops can be certified organic. For example, wild-crafted lavender from Southern France for a long time could not be certified organic because shepherds in the area where the lavender grows, in high altitudes of Provence, had their sheep there, and the sheep were put through parasite killing baths. Traces of the pesticide could then be found on the plants. Certification of wild-crafted crops also checks whether the crop is harvested in a sustainable way. Over-harvesting is not allowed.
I am not familiar with the detailed checklist for certified organic farming, as we do not farm. But, I can assure you it is very extensive and covers many points besides the ban of chemical fertilizers and pesticides. Amrita's certifier Oregon Tilth will be glad to supply you with that checklist.
Disclaimer: The statements made on this page have not been evaluated by the U.S. Food and Drug Administration (FDA). They are not intended to diagnose, cure or prevent any disease. If a condition persists, please contact your physician or healthcare provider. The information provided is not a substitute for a face-to-face consultation with a healthcare provider, and should not be construed as medical advice.
Original Published: 2016-04-22 / Last Modified: 2021-10-11
Posted by Amrita Aromatherapy