by Annalisa Fredrickson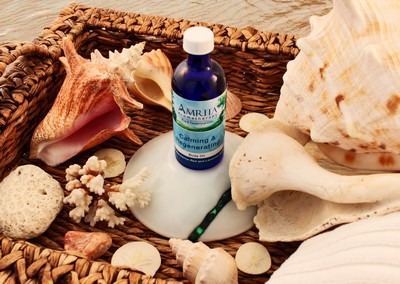 When was the last time you went to the beach?
When many people think of the beach they think of relaxation, rejuvenation and that heavenly feeling of the sun on their back. Unfortunately, it's not always easy to pack your bags and get to a beach (especially if you live in Iowa).
If you are craving a beach getaway, but cannot get to a beach this weekend (or this year), bring the qualities of the beach to your very own home! Set aside some time to give yourself a mini-spa hour or afternoon. Put on some relaxing music, light some candles, and spend some time giving yourself a foot or body massage or an after shower moisturizing treatment. Amrita carries a line of luxurious body oils, each one filled with essential oils that have specific purposes, perfect for pampering.
Our Calming and Regenerating Body Oil is a perfect "beach holiday" body oil. Mandarine Red helps to calm and refresh, Geranium Rose eases tension and Ylang-Ylang uplifts the emotions. In other words, this body oil will relax your mind and body, just like a beach day.
Another idea is to bring this oil to your next massage. That way you know you are getting a massage with the purest oil. Amrita's products are pure and unadulterated, just the way nature created them.
Enjoy your pampering! And just think, you are getting a tropical escape without a sunburn, sand in your shoes and a big credit card bill!
Original Published: 2015-03-27 / Last Modified: 2021-10-11
Posted by Annalisa Fredrickson