Product Spotlight: Celery CO2
May 18th 2023

Posted by Dr. Christoph Streicher and Linda J.
The smells in the kitchen radiate comfort and security; family members chopping up Celery for holiday stuffing with turkey. Or maybe, if you're from a certain age group, you remember blocks of Celery filled with cheese, or maybe, as an afternoon snack, with peanut butter. There's no denying the subtle appeal of fresh, crisp Celery, and how it can amplify your health.
But, who knew? This familiar, crunchy plant, used in soups, salads, garnishes and yes, afternoon snacks, is a secret super food. It is rich in nutrition, and with its low-calorie count, an ideal way to promote health. Tiny Celery seeds, and the essential oil derived from them, generate a huge amount of healing energy. Celery seeds are a time-honored Ayurvedic remedy, used since ancient times in India to treat colds and flu, as well as digestive problems and (drum roll please!) arthritis. The Romans used Celery (to them Celeri, fast-acting) for pain relief of all kinds, including the chronic kinds of pain that trouble so many of us.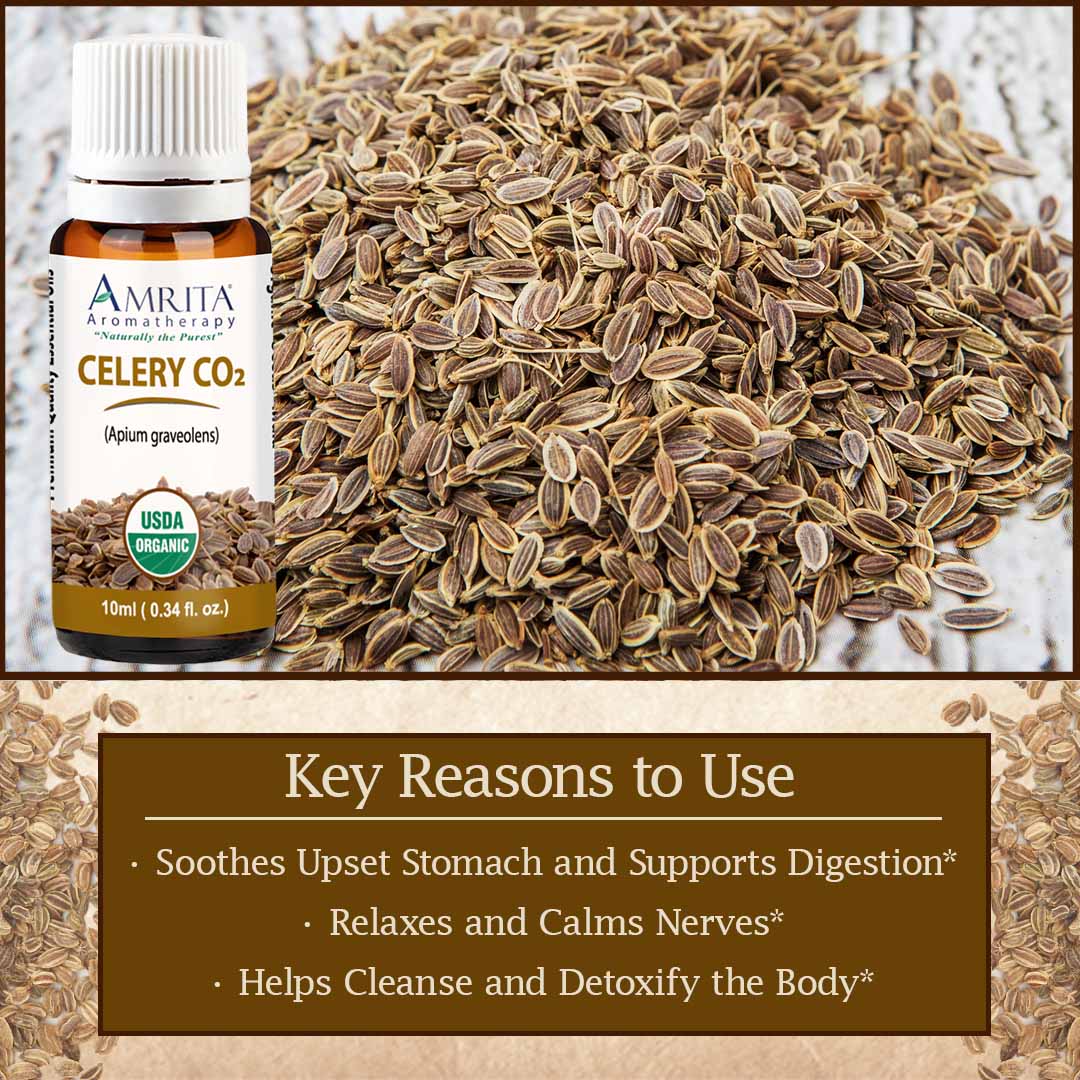 What is Celery Oil? What are the benefits of using it?
The cool-weather loving Celery plant is comprised of long slender stalks that grow vertically and are commonly eaten raw or chopped into various dishes. The stalks are topped with segmented leaves and when mature grow little white flowers that produce very small brown seeds of varying shades.
Celery Oil, derived from the seeds using a pure, CO 2 extraction method, is a powerful anti-inflammatory.* This slightly sweet, spicy oil reduces swelling and joint pain.* It is a diuretic, which cleanses the bladder and kidneys, thus preventing urinary tract infections and cystitis.* It can even help with irritable bowel syndrome.* Because Celery Oil reduces craving for sugary foods, it is a component of natural weight loss programs.* It's an anti-bacterial and anti-fungal oil which can even promote hair growth!*
But Celery Seed Oil does even more. Because it eliminates toxins it can be considered anti-carcinogenic.* As it cleanses the body it promotes healthy digestion and normalizes blood pressure.* With its simple, earthy qualities it can have a calming effect on the nervous system as well.*
If you have digestive problems, or want to prevent them, try using Celery Oil topically, diluted with a carrier oil such as Jojoba Oil.* A tummy massage works best! You can also apply it topically to aching joints: knees, arms, hips, neck, and lower back. Applied to your low back and above your kidneys, it reduces inflammation in those areas.*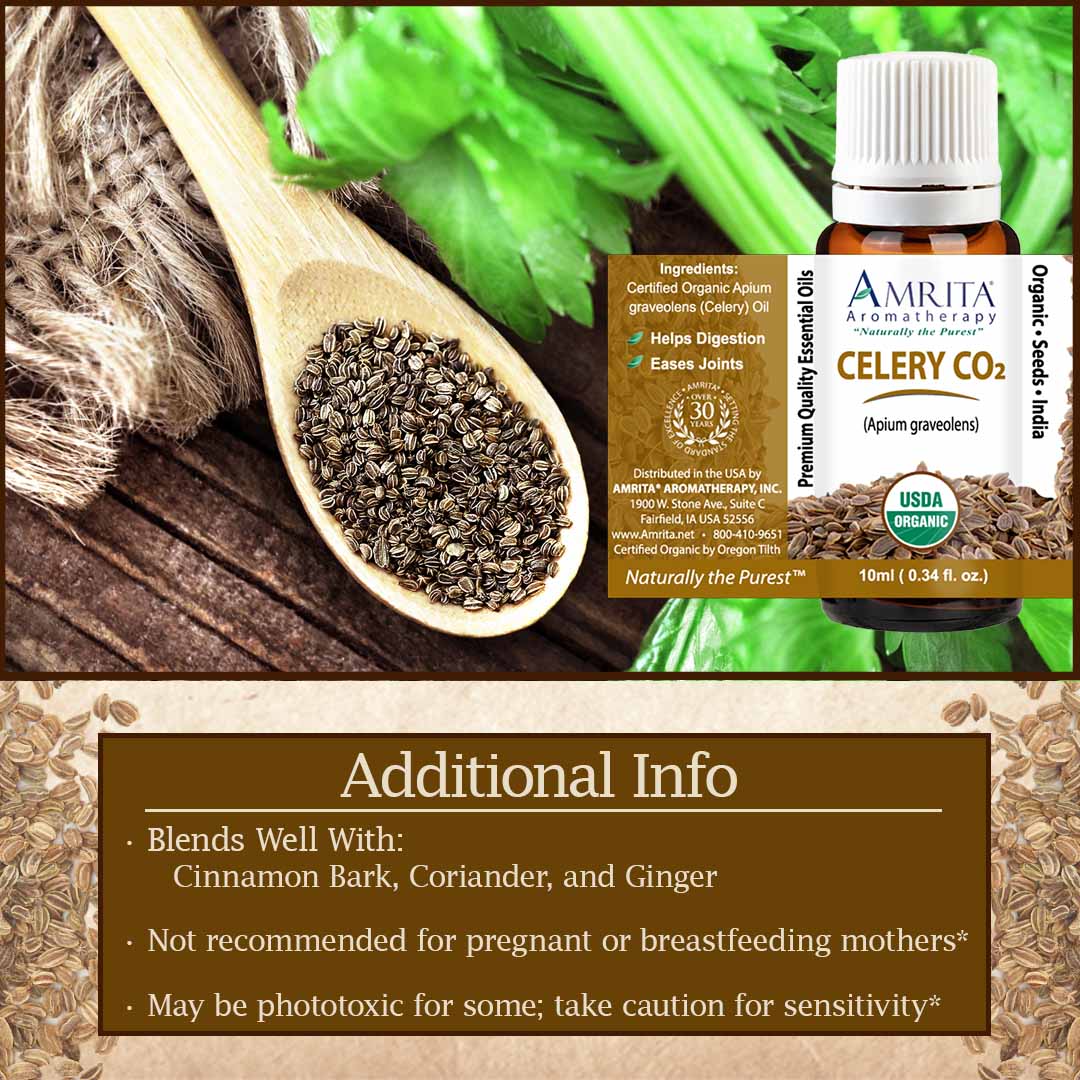 How would you use Celery CO 2 Oil?
Discover the amazing warm, bitter-sweet, and spicy power of Celery CO2 Oil. This potent oil boasts calming and sedative properties that can help soothe anxiety, relieve stress and tension, and promote an overall positive environment.*
When you diffuse Celery CO2, your body will experience a soothing effect that can help lower blood pressure and improve your mood.* Plus, with its convenient and easy-to-use application, you can enjoy the benefits of this powerful essential oil anytime, anywhere.
For centuries, herbs, flowers, and plants have been used to help with everyday stress. Now, you too can take advantage of their calming properties with Celery CO2 Oil. Simply add a few drops to your relaxation massage oil, your bath water, or use it on its own to relieve muscle tension, menstrual cycle symptoms, and digestive health issues.*
What would blend well with Celery CO 2 Oil?
Looking for a way to revitalize your mind and body? Try these blends featuring Celery CO2, a popular ingredient known for its health benefits. For a refreshing twist, mix Celery CO2 with zesty Lemon and invigorating Peppermint. Looking to unwind? Blend it with soothing Lavender and calming Cedar Atlas. And for a truly rejuvenating experience, combine Celery CO2 with replenishing Patchouli and relaxing Roman Chamomile. Give yourself the gift of natural revitalization with these Celery CO2 blends.
Here are a few DIY recipes for you to try in your nebulizer:
Celery CO2 is an often overlooked but incredibly beneficial component of aromatherapy. It has long been used to help support physical and mental wellbeing, offering effects that can range from stress relief to increased energy levels.* With its strong smell, it has the capacity to open blood vessels, release tension in muscles and relax the nervous system for a state of complete ease.* Although there are many essential oils with similar properties, Celery CO2 stands out among them due to its remarkable healing benefits and wonderful aroma — something we can all be thankful for!*
Happy Blending!
* These statements have not been evaluated by the Food and Drug Administration. These products are not intended to diagnose, treat, cure, or prevent any disease.