This or That: Ecstatic Body vs. Unbounded Body
May 25th 2023

Posted by Dr. Christoph Streicher and Linda J.
The magic offered by the healing plants is truly infinite. The world brings us challenges, and the answers are all around us. For optimal fulfillment in this life, you can always look to the force that has nurtured humanity since the beginning of time: Mother Nature. If you want to live your best life, supported by natural wisdom, we invite you to try Amrita's Tri-Essence Power Blends.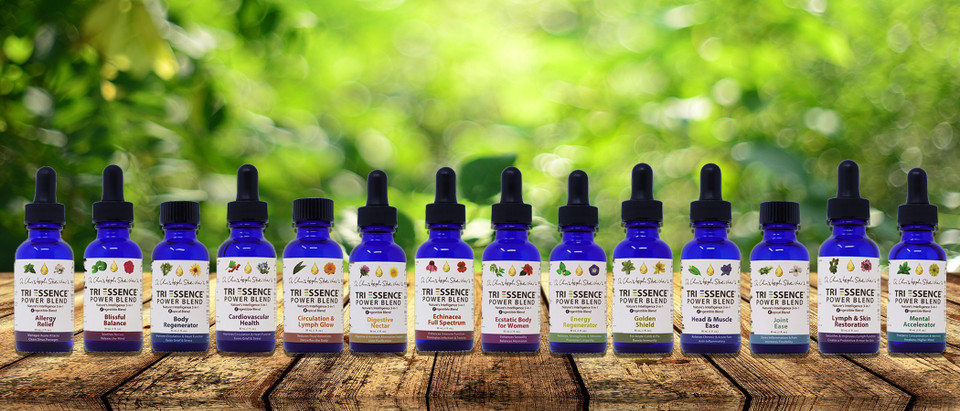 What are Tri-Essences and what makes them so special?
Each of Amrita's Tri-Essence Power Blends is a true masterpiece of the aromatherapeutic healing arts. These blends of Herbal Extracts, Essential Oils, and Flower Essences are completely unique and represent the combined wisdom of Dr. Christoph Streicher, distinguished aromatherapist (and Amrita's founder) and Dr. Lilli Botchis, a leading researcher and herbologist. Both of these gifted scientists are deeply involved with understanding plant consciousness and how it supports human spiritual, physical and emotional health. Together they created Tri-Essence Power Blends, which address nothing less than the existential healing of the human soul!
Tri-Essence formulas are a trifecta, or triple win: they combine Herbal Extracts, Essential Oils, and Flower Essences, perfectly blended in one bottle. The Herbal Extracts primarily heal your body, the Essential Oils focus on balancing your mental and emotional states, while the Flower Essences add a sense of flow to your soul.*
These unique blends of Essential Oils, Flower Essences, and Herbal Extracts, primarily from either certified organic or wild-crafted plants, provide synergistic healing potency. Every oil that arrives at Amrita is lab-tested in house for purity, so you can feel confident that you receive the maximum therapeutic effect.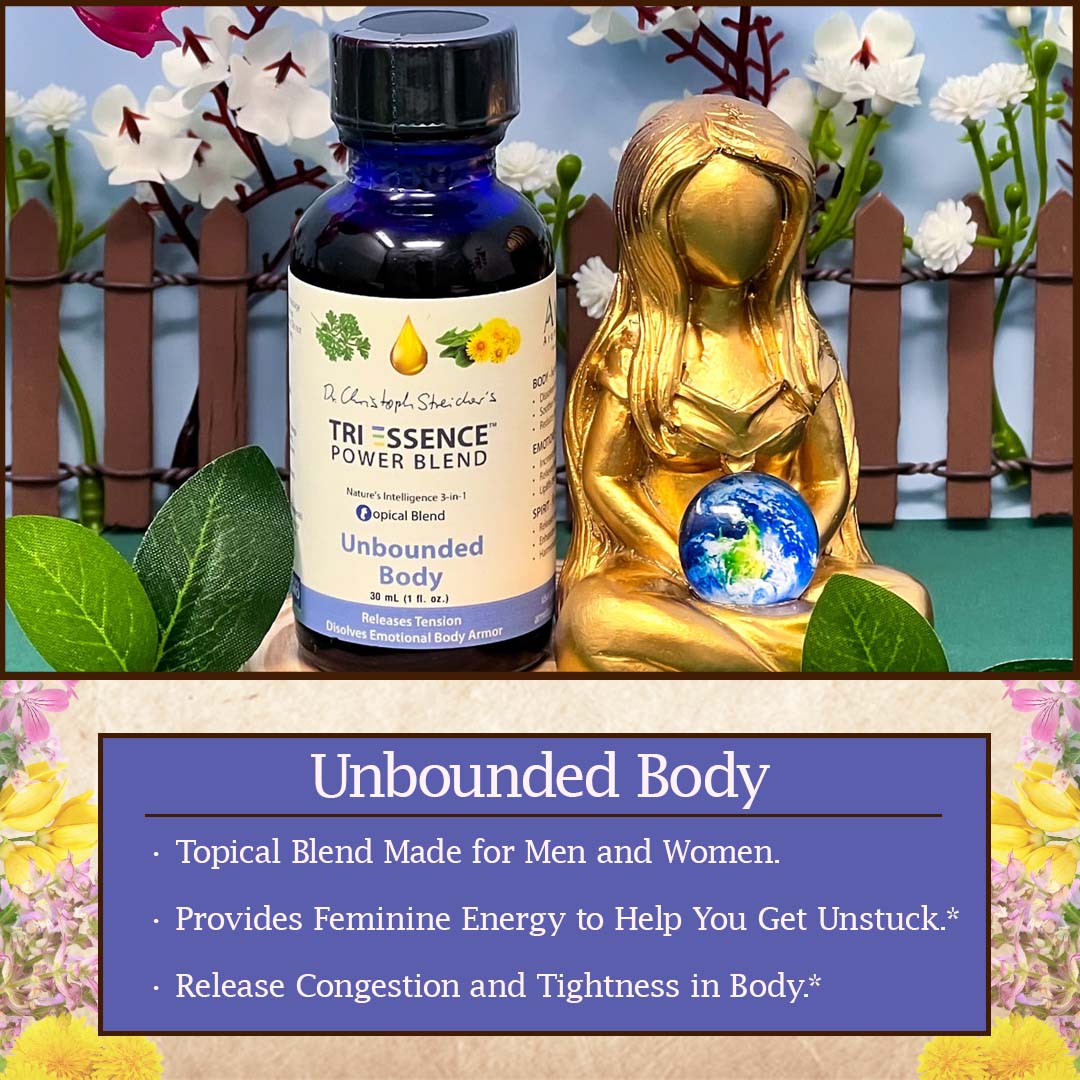 Dynamic External Healing: Unbounded Body
Unbounded Body is designed to soothe and open your whole body.* It is intended for men and women alike, giving a dose of nurturing feminine energy where it's most needed, helping us to get unstuck, in our bodies (muscle cramps and tension) and our souls (negative emotions).* Using the healing energy of this blend, your spirit will relax, while your body will feel stronger, creating a sense of inner harmony.* Unbounded Body is the antidote to the "slings and arrows of outrageous fortune" that we all face in this life. Use it to both soften your heart and empower your soul!
Mugwort, Dandelion, and Calendula, in a double dose of both Herbal Extract and Flower Essence forms, enliven this highly effective blend. Mugwort, Artemisia vulgaris, is a time-honored herb, used in traditional medicine for many purposes, from a mild sedative to a digestive aid.* Dandelion, Taraxacum, also in the Asteraceae family, reduces inflammation, and flushes toxins.* Calendula, Calendula officinalis, petals enhance a sense of calm and can heal wounds.* All three of these plants enhance detoxification and reduce oxidative stress in the body.*
This powerful triptych of certified organic, sustainably sourced or ecologically harvested herbs in Unbounded Body Tri-Essence synergistically supports the structure and function of the body.* It also enhances the receptivity of the mind to all-important shifts in consciousness.* This combination of effects heals your body and nurtures your soul.*
But, there's more! The innovative blend of essential oils in Unbounded Body Tri-Essence is designed to develop equanimity in your body and emotions.* And balance, in the words of many great spiritual teachers, is essential for happiness in this life. If you're looking for answers, for divine timing, and cosmic contentment, a sense of inner calm and balance is key.
When you apply Unbounded Body Tri-Essence topically, you are bathing yourself in lusciousness. In an Almond Oil base, with Olive Oil infusions of Mugwort, Calendula and Dandelion, you will enjoy the healing properties of these essential oils:
With the synthesis of these time-honored pure essential oils you will feel more deeply the unbounded qualities of your body and soul!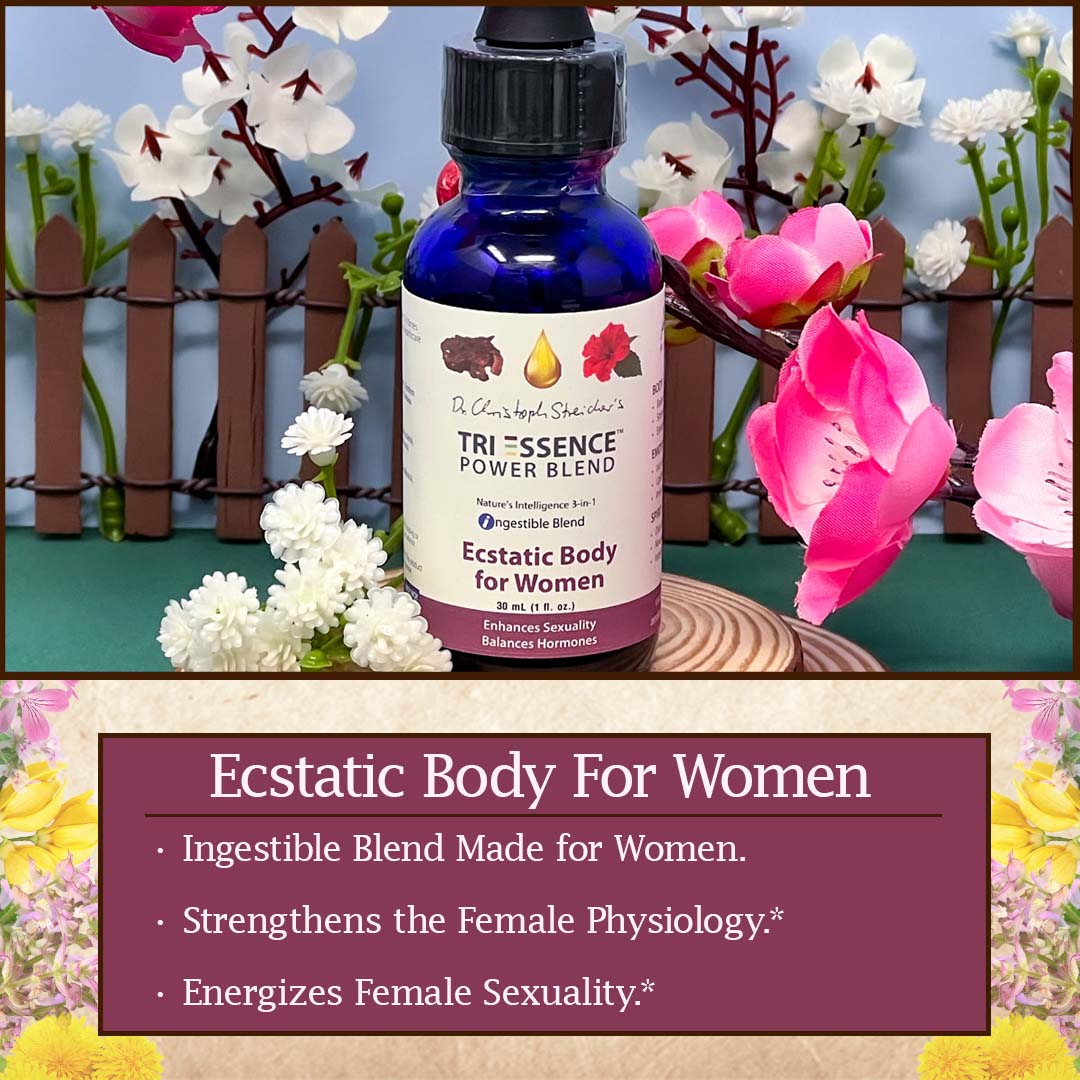 Dynamic Internal Healing: Ecstatic Body for Women
Ecstatic Body for Women is the reward for being female that we seek. Everyone knows there is a downside to being female, it's been true throughout time, and every woman feels it on a regular basis. This is true whether it's the challenges of the cultural and socioeconomic systems we live in, or in the cycles of our individual physical forms.
A tonic for women's intimate health, Ecstatic Body for Women reminds us that being a girl, or a woman, is truly an honor and a delight! This blend connects with the wellspring of feminine joy, enhancing sensual and sexual well-being. It gracefully integrates somatic systems – what in Ayurveda is known as the Dhatu. When the Dhatus are in balance, physical, emotional, and spiritual health naturally follow. What ensures this lovely calibration of feminine health?
Ecstatic Body for Women, like all of Amrita's Tri-Essence Blends, is a precise and subtle mix of pure, organic and wild-crafted Herbal Extracts, Essential Oils, and Flower Essences.
The Flower Essences for Ecstatic Body were selected to enliven openness and sensuality:
Hibiscus (Hibiscus moscheutos) – Integrates the Inner Soul and Outer Physical Expression for a Meaningful Sexual Experience.*
California Pitcher Plant (Darlingtonia californica)– Strengthens Natural Instincts and Aliveness in Sensuality.*
Sticky Monkeyflower (Mimulus aurantiacus) – Enhances Intimacy by Integrating Pure Love and Passionate Sexual Experience.*
The Herbal Extracts for Ecstatic Body are just off the charts positive for women's health:
Fo-Ti (Fallopia multiflorum) – Aphrodisiac, Energizing, and Overall Health Tonic.*
Helonias Root (Chamaelirium luteum) – Tones Uterus.*
Siberian Ginseng (Eleuthero) (Eleuthrococus senticosus) – Enhances Fertility, Hormone Balancing, and Energizing.*
Dong Quai Root (Angelica sinensis) – Enhances Fertility, Hormone Balancing, and Energizing.*
Damiana (Turnera diffusa) – Aphrodisiac, Energizing, and Overall Health Tonic.*
While the Essential Oils are powerful choices for balance, harmony, and a sense of optimism: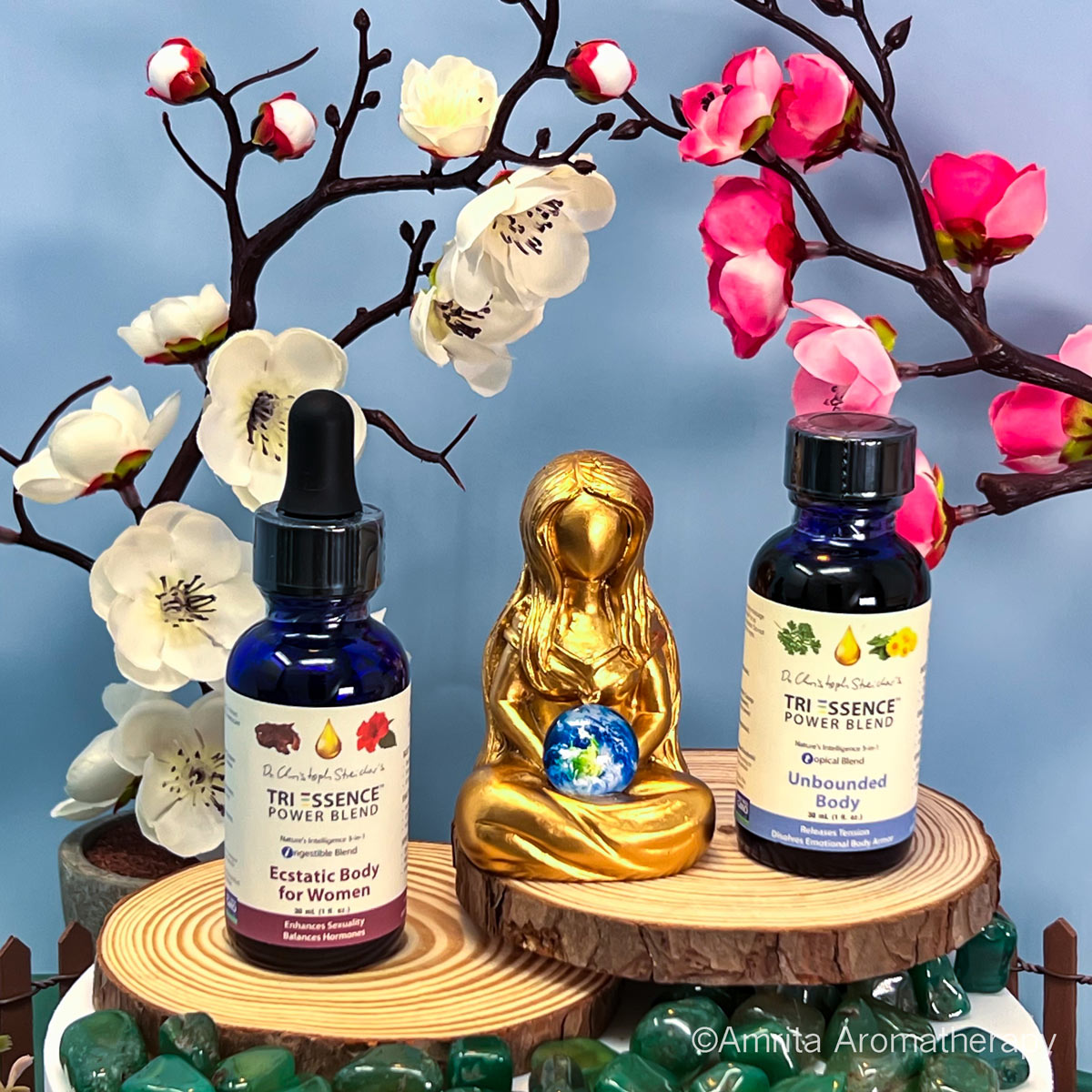 Additional Thoughts from Amrita's Experts
For fulfilling and sustainable experiences of ecstasy, open-heartedness, and well-being, these Tri-Essences are nothing short of revolutionary. The synergistic blends of herbs, flowers and essential oils found in Unbounded Body and Ecstatic Blend for Women can empower you to be your best self.* With this support, your life's journey can become a joyful dance!
*These statements have not been evaluated by the Food and Drug Administration. These products are not intended to diagnose, treat, cure, or prevent any disease.